There are certain things in Paris which you can only do in the Summer, did you know that? We have listed the best activities to squeeze into your agenda before September!
1 Picnics galore!
Be it with friends or family, let's enjoy the beautiful days and get out of our apartment, off the sofa!
Well, the problem in Paris is that going out means either Thursday after work, the Happy Hour which you always miss for just 5 minutes, the perfect terrace, the party you found on Instagram, the barge hosting a hippie chic evening (since you can't afford going to Coachella), the riverside cafe along the Seine or the famous « just a drink ». In short, going out in Paris means an overdrawn account by the 5th of the month.
The solution to go out every evening without going bankrupt is the good old picnic. A short trip at Monoprix or some home-made sandwiches for the most courageous and here you go, heading to the banks of the Seine or to Paris hidden gardens for a bit more peace and quiet!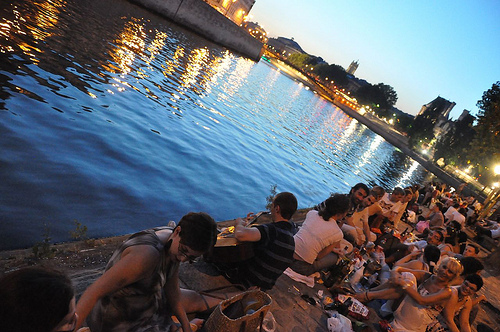 Our favorite spot :
For a picnic with friends, our not-to-be-missed address is the banks of the Seine, between the Alexandre III bridge and the Concorde bridge. One can admire the views over Paris (we don't get weary yet, let's say it) and at the same time from Thursday evening there is a great atmosphere with many cafés and restaurants that are growing like mushrooms on the waterfront!
Bonus: even after too much drinking you can enjoy a Luna Park ride with your girlfriends at midnight #truestory
What's for dinner?
Oh yes… Actually we forgot to mention that a picnic requires a minimum of anticipation, I mean, you will need to buy a baguette and "Justin Bridoux" salami at the Supermarket down your office. Oh, you forgot it? No worries, here is some good tips so you can to treat yourself like a prince with "home" delivery!
1 – La belle vie
2 – Clac des doigts
3- Deliveroo
4- Paris picnic
2- A restaurant just for yourself
If you are reading this article it is probably because you are in Paris during the Summer holidays, either for a visit, or simply because you just live here! But the majority of the Parisians are actually away now. Where are they? According to my Facebook wall you can find them near the Ré Island or the Cap Ferret! Are you jealous? Don't! Because in the meantime you can finally get a place in the latest trendy bars and restaurants that are always busy during the rest of the year!
Our selection of restaurants to be tested immediately (they are open in August!):
"East mamma" and "Ober mamma"
These two Italian restaurants do not take any reservation and usually allow you taste their fabulous meals after one hour queuing. Personally I never got the courage to wait, just saying. So go for it!
Stuff yourself with delicious pasta while the whole city is getting poisoned eating oysters by the sea.
Here is the info: https://www.bigmammagroup.com/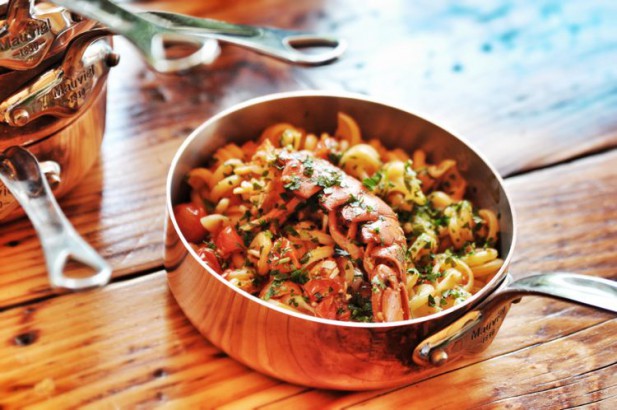 Le café de l'homme
If for no other reason than the superb view on the Eiffel Tower, you really need to go there! After five years of work this restaurant offering one of Paris most stunning views has just reopened its doors
and is here for you the whole Summer.
Here is the info : http://www.cafedelhomme.com/fr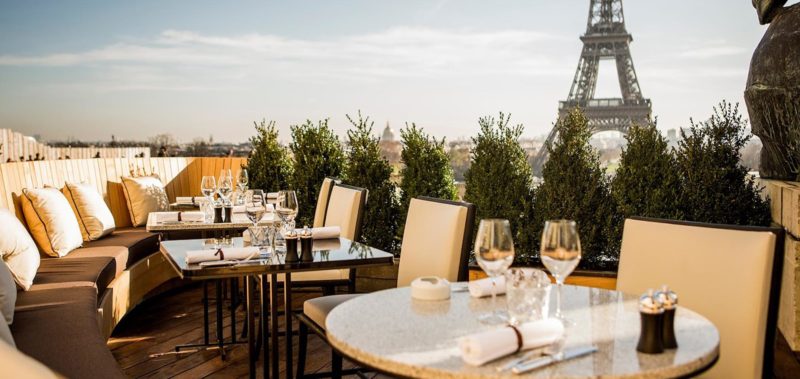 Kodawari Ramen
You will feel like being in Tokyo more than in Paris, but this Japanese restaurant is a must-see!
In addition to the authentic Japanese ramen, this 6th district establishment will take you to a full Japanese immersion with its wall posters full of Japanese star faces, its dimmed lights, its street ambiance and its kawai decoration.
Here is the info : http://www.kodawari-ramen.com/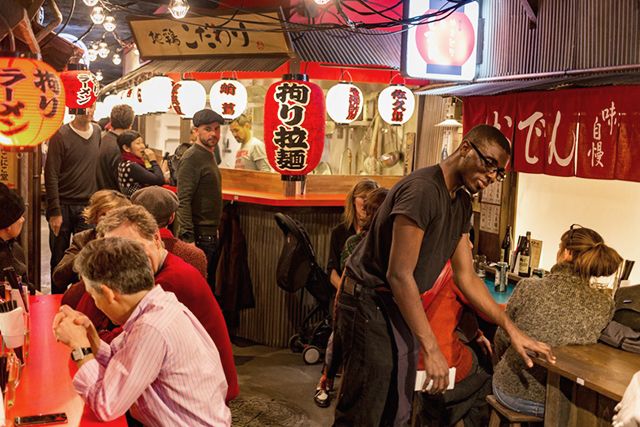 Grand cœur
If you are following us on Instagram (and it is never too late!) you know that we love this hidden address in the heart of the Marais! And oh happiness, they are not closing for holidays! #thanksgod
In this restaurant sheltered in a pretty paved courtyard you can enjoy a sumptuous French cuisine while sunbathing on their large terrace. No cars, no sidewalks, no passers-by…it is only you, your glass
of wine and the sound of the ballerinas which you can hear from the adjacent dance studio.
Here is the info : http://www.grandcoeur.paris/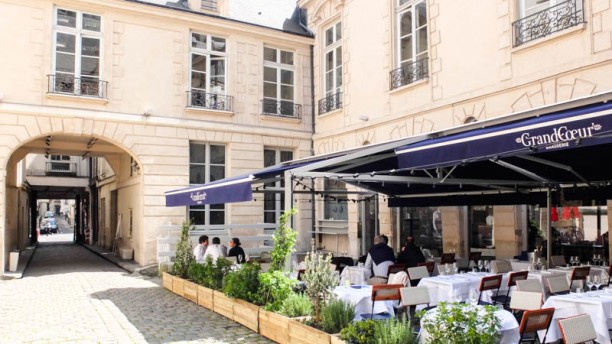 Le moulin de la galette
Mea culpa, we have actually never been there! But we surely will resolve this little frustration during our Parisian Summer!  The Moulin de la Galette combines four things that we love: French cuisine, seasonal products, a garden and Montmartre. I don't see how we could ever be disappointed!
Here is the info : http://www.lemoulindelagalette.fr/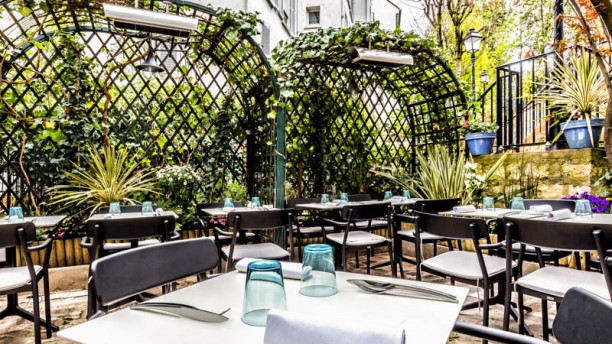 And where to go for a drink ?
Come on, let's go to the Perchoir !
If you are following us on Facebook (and again here, it is not too late for this my friends) you must have seen a post about a new rooftop bar on Gare de l'Est. This is the new spot opened by the Perchoir team and if you know their two other locations, you are aware that except in August you will never get a seat. So, go for it!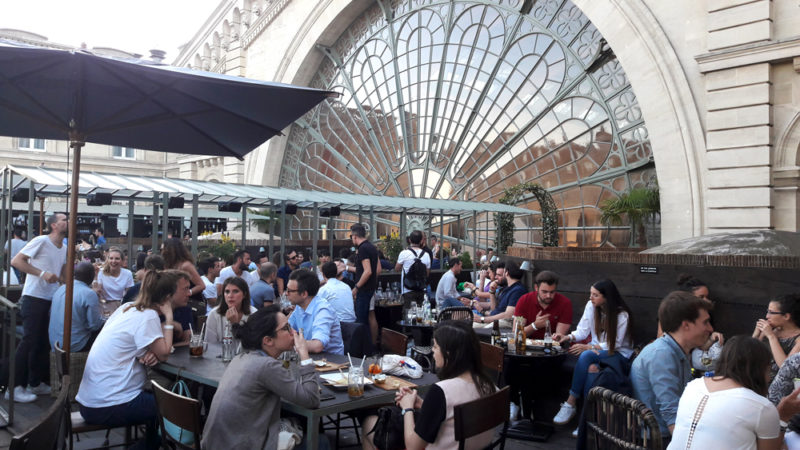 Les bars cachés
Some of the best cocktail bars in the world are in Paris. Yes it is ! But they are well hidden. And even if you find the entrance it is not sure that you will find your way to the bar… But good news! The Candeleria
and the Moonshiner will be open for the whole Summer – an opportunity to taste the best cocktails  in Paris without jostling!
3- Vaux le Vicomte
Now this is the part reserved to the drive license holders. Because Vaux le Vicomte has to be earnt!
Located a 50 minutes drive from Paris, this famous castle offers a different facet to discover every Saturday evening during the Summer. Savor the warm days and enjoy with a candle-lit visit of the whole castle and its gardens. Magic atmosphere guaranteed!
And if you plan a romantic evening we recommend that to combine your stroll with a dinner in
the restaurant located in the garden of the castle, which is candle-lit too. Read our article to know more.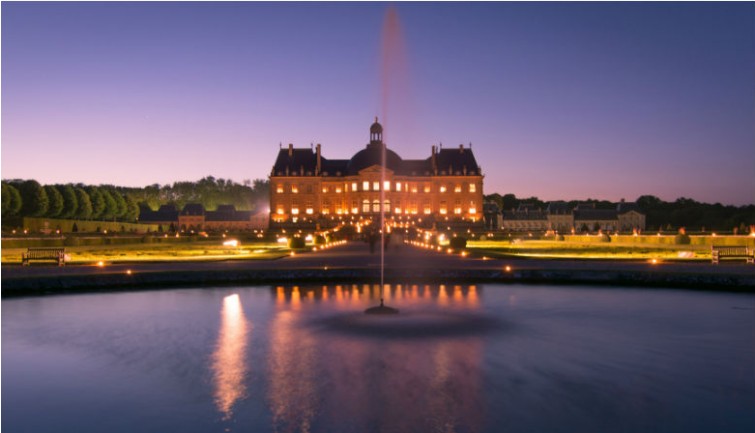 4- Versailles
Here is more culture! And you will ask, what does Versailles has to do with the Summer? We don't want to talk about the castle but about the performances taking place in its garden every Saturday evening – The Fountains Night Show! Yes, you see the posters in the metro each year and think:  "This looks nice, I will try to watch it this year". Now let us tell you one thing: this is not just "nice", it is totally magnificent! Summer time goes fast so take the opportunity to discover this beautiful, unique performance, on Saturday evening!
Hobbizer can even help you book your tickets here.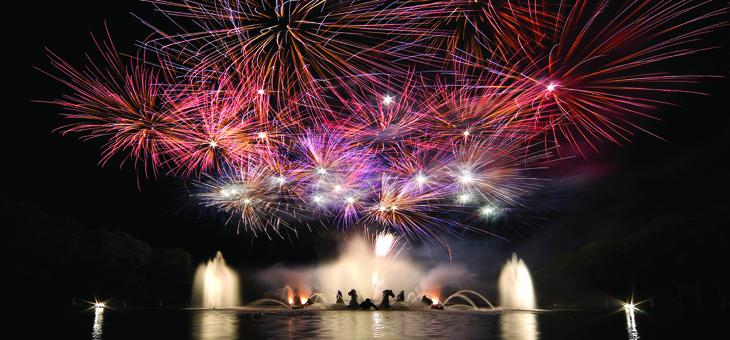 5-La Boumette 
What is missing in Paris in the Summer? Not much in the end – the sea, a little more sun and open-air parties to dance all night long. OK, sorry we won't be able to do anything about the sea and the sun but we do have plenty of open-air parties! La Boumette comes back every Summer
in a splendid setting: the terrace of the Paris Opera restaurant! That's right!
Every Friday and Saturday in the Summer the restaurant organizes parties on its 1500 square meters terrace. So stop complaining, don't lock yourself in a nightclub and put on your most beautiful dress to wiggle under the stars at the foot of the Opera!